👟 Professional Shoe Fitting
🛍️ Independently Owned & Operated
👟 Professional Shoe Fitting
🛍️ Independently Owned & Operated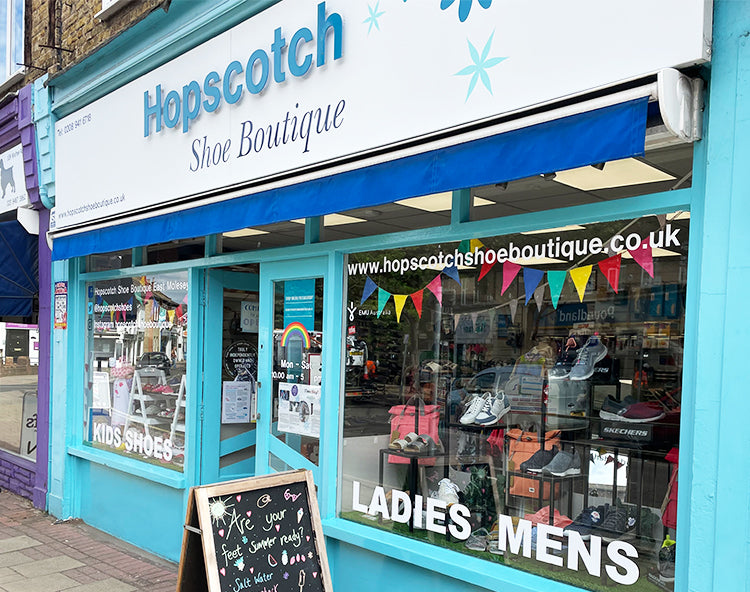 Our Reviews
PR - ★★★★★

"We were so impressed when Jane measured my sons feet while he was asleep in the car! She measured, fitted and I bought his shoes and he didn't even wake up !!"

Mrs Clayton - ★★★★★

"Such an easy place to shop"  Had some really good feedback the last few weeks especially this one from a customer from Chessington. "I don't go anywhere else now, I have 3 children and shopping at Hopscotch is so easy and relaxing. I always manage to get shoes for all 3, generally in less than half an hour"

Lindy Davie - ★★★★★

"Super friendly service, very helpful on sizing when enquiring online. Ordered beautiful 'Camper' shoes and they happily sent them to me in Australia… they really went the extra mile!"

Stuart Paterson - ★★★★★

"Great place for getting shoes for your little one. Staff very helpful, lots of shoes to choose from, and great advice on sizing and other things you just don't know to ask!"

Anna Mantle - ★★★★★

"Great service. Brilliant selection of shoes. Easy to navigate website. And free delivery to the door. Thank you very much Hopscotch Shoe Boutique! Hopefully the warm weather will return and we can enjoy our sandals!"

Kelly Cragg - ★★★★★

"Just received crocs for my 3 yr old daughter, great local home delivery service and put up with my numerous changes in style. Great service, happy to support local businesses in this difficult time. Do not hesitate to use them."
Follow us on Instagram @hopscotchshoeboutique